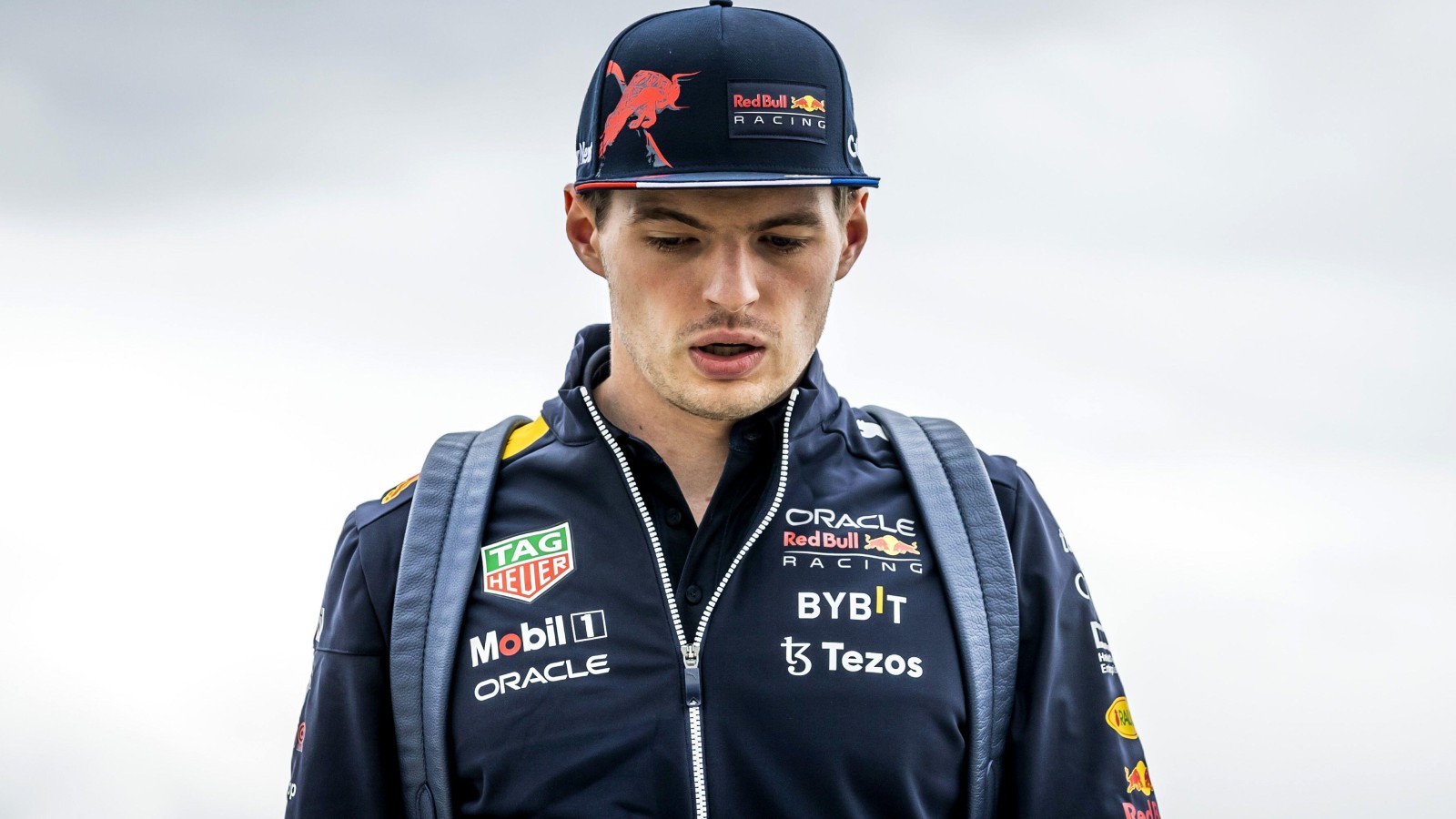 Charles Leclerc spin cost Max Verstappen 'three or four tenths'
At Silverstone, Carlos Sainz clinched his first career F1 pole position – but without the other Ferrari running, could it have gone to Max Verstappen?
That's what Red Bull team principal Christian Horner believes, with Verstappen's team boss explaining the yellow flags triggered by by Charles Leclerc The Q3 spin had forced Verstappen into the air, losing up to four tenths of a second in the process.
Verstappen eventually missed Sainz's pole time by just 0.072 seconds.
Asked by Sky Sports F1 if it was pole position that had slipped away, Horner replied: "Yeah I mean Charles did a U-turn, Max lifted for yellow [flags] and I think he gave about three or four tenths for it.
"But congratulations to Carlos, he was always a demon in the wet when he was a junior for us. He has always been very strong in these kinds of conditions. So congratulations to him, and just delighted to be in the front row with Checo [Perez] up there in the second row as well.
Verstappen does a 360° 😱

The Dutchman manages to regain control and continues on his way#BritishGP #F1 pic.twitter.com/1pcHlK4ATb

— Formula 1 (@F1) July 2, 2022
Verstappen certainly didn't have a clean Q3 in its own right, losing his first flying lap after a spin, while his second also featured a trip to the clearance zone.
Horner, however, explained that it was Verstappen's way of chasing the limit, revealing the world championship leader somehow only lost two seconds on the lap.
Speaking of Verstappen's Q3 dramas, Horner said: "He didn't lose any laps but had a moment where he did a 180 and he only lost two seconds crossing the line. That was the ridiculous thing on this subject.
"It wasn't really part of the plan, but Max likes to find the limit and it's just a shame we didn't do that last lap, but to still finish on the front row after a tricky session like that is a good place to be.
And with Horner explaining that Red Bull generally operates with less downforce than their rivals, he believes this allows Verstappen to secure P2 on the grid and Perez P4 even more impressive.
"We tend to probably run a set depending on where the other guys are and that tends to work better for us in the race," Horner said.
"So in those conditions, without that downforce, it's quite tricky here. So I think both guys did a great job. And that was a shame with the yellow [flags]one of those things, but I think it will make for an interesting race tomorrow.
Looking ahead to the race, Horner explained that it was difficult for anyone to make any predictions about his long-term pace as FP1 featured a very limited race due to rain showers at various parts of the circuit.
But with so many dynamics likely to appear in the race, including perhaps more rain, Horner says the British Grand Prix will truly be a journey into the unknown.
"I think everyone had a long race of about four laps yesterday," he said. "So it's a bit unfamiliar, but with Checo too there's so much dynamics, and I think if it's a straight dry race, strategy and tire deflation and so on will be crucial.
"This year we have seen that these cars can follow closer which will be crucial thanks to Beckett and of course the great British summer may well continue tomorrow as well.